»Local eli­tes and the manu­fac­tu­re of ine­qua­li­ties«. Gui­ded tour bet­ween histo­ry and memo­ry in part­ners­hip bet­ween MEG and Dia­lo­gue en Route
An urban tour around the figu­res of the Genevan savants, fol­lo­wed by a dis­cus­sion with Flo­ria­ne Morin, cura­tor at MEG, about colo­ni­al collections.
Datum: 04/13/2022
Beginn: 02:30 p.m.
Ende: 04:00 p.m.
Ver­an­stal­tungs­for­mat:
Face-to-face event
The­ma­tik:
Cul­tu­ral objects in a colo­ni­al context
Colo­ni­al sci­en­ces history
MEG. Musée d'eth­no­gra­phie de Genève
Adres­se:
Bou­le­vard Carl-Vogt 65
1205 Geneva
Betei­lig­te Person(en):
Ali­ne Zuber (His­to­ri­an and Gui­de for Dia­lo­gue en Rou­te); Flo­ria­ne Morin (Cura­tor Afri­ca collec­tions MEG)
Link zur Veranstaltung:
https://​www​.meg​.ch/​e​n​/​p​r​o​g​r​a​m​-​a​c​t​i​v​i​t​ies
Link zur Institution:
https://​www​.meg​.ch/​e​n​/​r​e​s​e​a​r​c​h​-​c​o​l​l​e​c​t​i​ons
Kurz­be­schrei­bung
In this tour, the public will meet Carl Vogt, Emi­le Yung and Eugè­ne Pit­tard, who­se theo­ries con­tri­bu­t­ed to the con­struc­tion of ine­qua­li­ties. Fol­lowing in the foots­teps of this past means ques­tio­ning the per­sis­tence of ine­qua­li­ties and discri­mi­na­ti­on in the pre­sent, but also under­stan­ding the con­struc­tion of sci­ence as an ideo­lo­gi­cal­ly situa­ted phenomenon.
The urban tour ends with an immer­si­on in the histo­ry of the MEG and its collec­tions, assem­bled by Prof. Pit­tard in the ear­ly 20th century.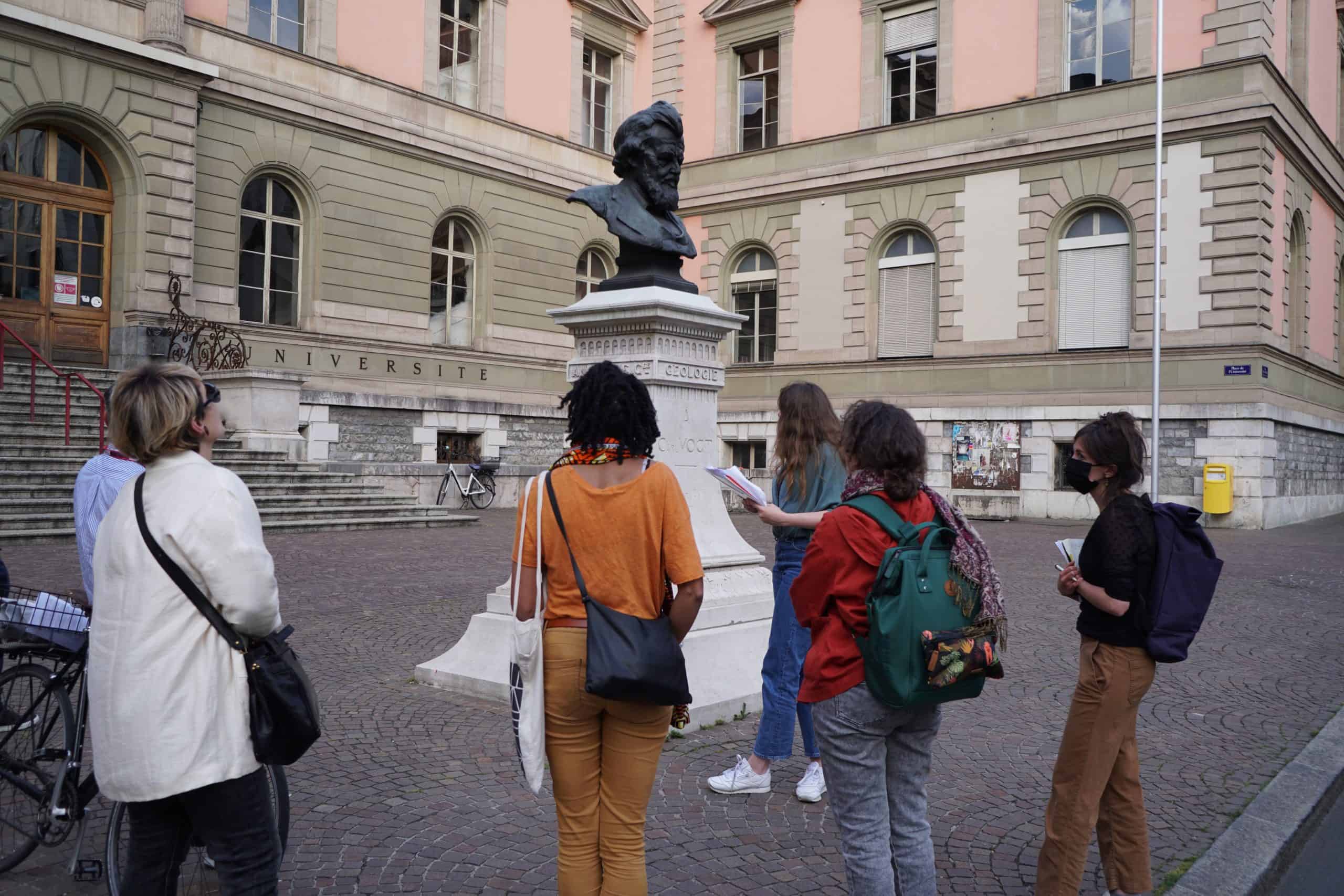 Bild­rech­te: Sta­ti­on on the urban tour in front of Carl Vogt bust. Pho­to Dia­lo­gue en Route.