International Provenance Research Day Tour
Datum: 04/16/2023
Beginn: 2:00 p.m.
Ende: 3:00 p.m.
Veranstaltungsart:
(F) = Guided tour / Curator talk / Tour
(O) = Online publication
(S) = Social media
Veranstaltungsformat:
Face-to-face event
Thematik:
Items confiscated by the Nazis
History of the collection
Degenerated art
Provenance research as a discipline
Sidney and Lois Eskenazi Museum of Art
Adresse:
1133 E 7th St
47405 Bloomington, Indiana
Beteiligte Person(en):
Dr. Jenny McComas, Curator of European and American Art
Link zur Veranstaltung:
https://events.iu.edu/artmuseum/event/914679-1
Link zur Institution:
https://artmuseum.indiana.edu/collections-online/provenance/
Kurzbeschreibung
Join us to learn more about provenance of works in the Eskenazi Museum of Art's collection. Dr. Jenny McComas, Curator of European and American Art, will lead a tour of paintings she has researched as part of the museum's World War II-era Provenance Research Project. Learn about the collectors, patrons, and art dealers who owned these works in prewar Europe, the steps they took to protect their collections from Nazi art looting, and how the works ultimately made their way to Indiana University.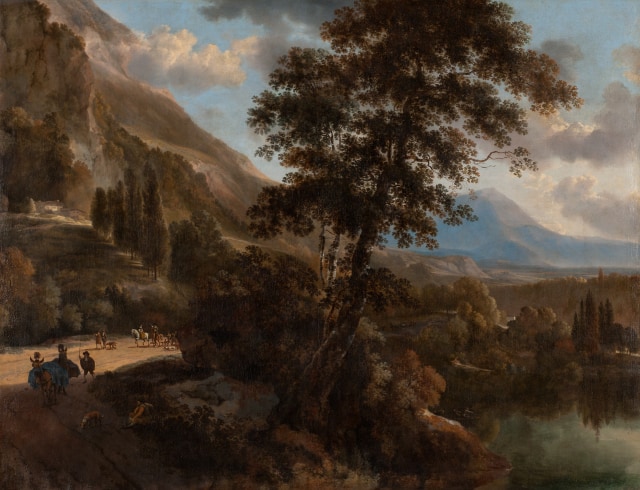 Bildrechte: Attributed to Jan Hackaert (Dutch, 1628-ca. 1685) and Adriaen van de Velde (Dutch, 1636-1672). Mountain Landscape with Travelers, ca. 1660s. Oil on canvas, 54 1/8 x 70 1/8 in. (137.5 x 178.1 cm). Gift of Frederick Stafford, Eskenazi Museum of Art, Indiana University, 60.37.